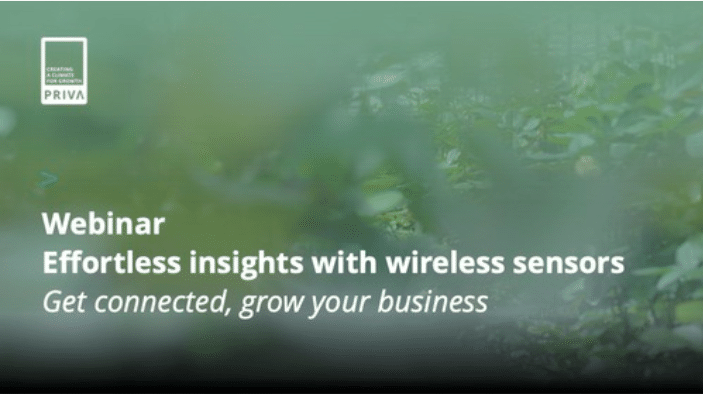 As a grower, you face new challenges every day and you have to make choices about your cultivation and operations. You want to have insight into your specific growing conditions, to be able to accurately control the quality and production. Data-driven growing offers new opportunities to gain more insight to improve your cultivation. 
The wireless Priva | Aranet sensors offer the flexibility and convenience to extract more specific data from your greenhouse. Measured close to the crop, wherever you want it. Analyzing your data is easier and less time consuming by using Priva | Aranet wireless sensors. Priva's open platform combines various data, therefor you only need one environment to analyze your data and adjust settings based on new insights.
In this webinar we will take you through the possibilities of data driven growing using wireless sensors. We will give you insight in the advantages of this wireless technology.
Program: 
Why data-driven growing?  
How does a wireless sensor work and what can you do with it?  
What do you need to be able to work in a data-driven way?  
What are the benefits for me as a partner and my customers?  
What can I do if I want to purchase or deploy sensors for my customer and how does Priva help me do this?    
Presentation by:
Marjolein Akkerman, product marketeer Priva
Marcus Heist, account manager Priva
Timo Tarkiainen, account manager Priva
Toms Rekšņa, marketing director Aranet
When?
 Tuesday, 15 June 2021 (English):
08.00 – 08.45 AM CEST = 16.00 – 16.45 AEST
16:00 – 16:45 PM CEST = 10.00 – 10.45 EST
Thursday, 17 June 2021 (Dutch):
16:00 – 16:45 PM CEST