Virtual Southeast Asia Career Fair 2021
Supported by the Embassy of the Kingdom of the Netherlands, the Virtual Southeast Asia Career Fair "Connecting International Minds" is coming soon. This is your opportunity to connect with international talent.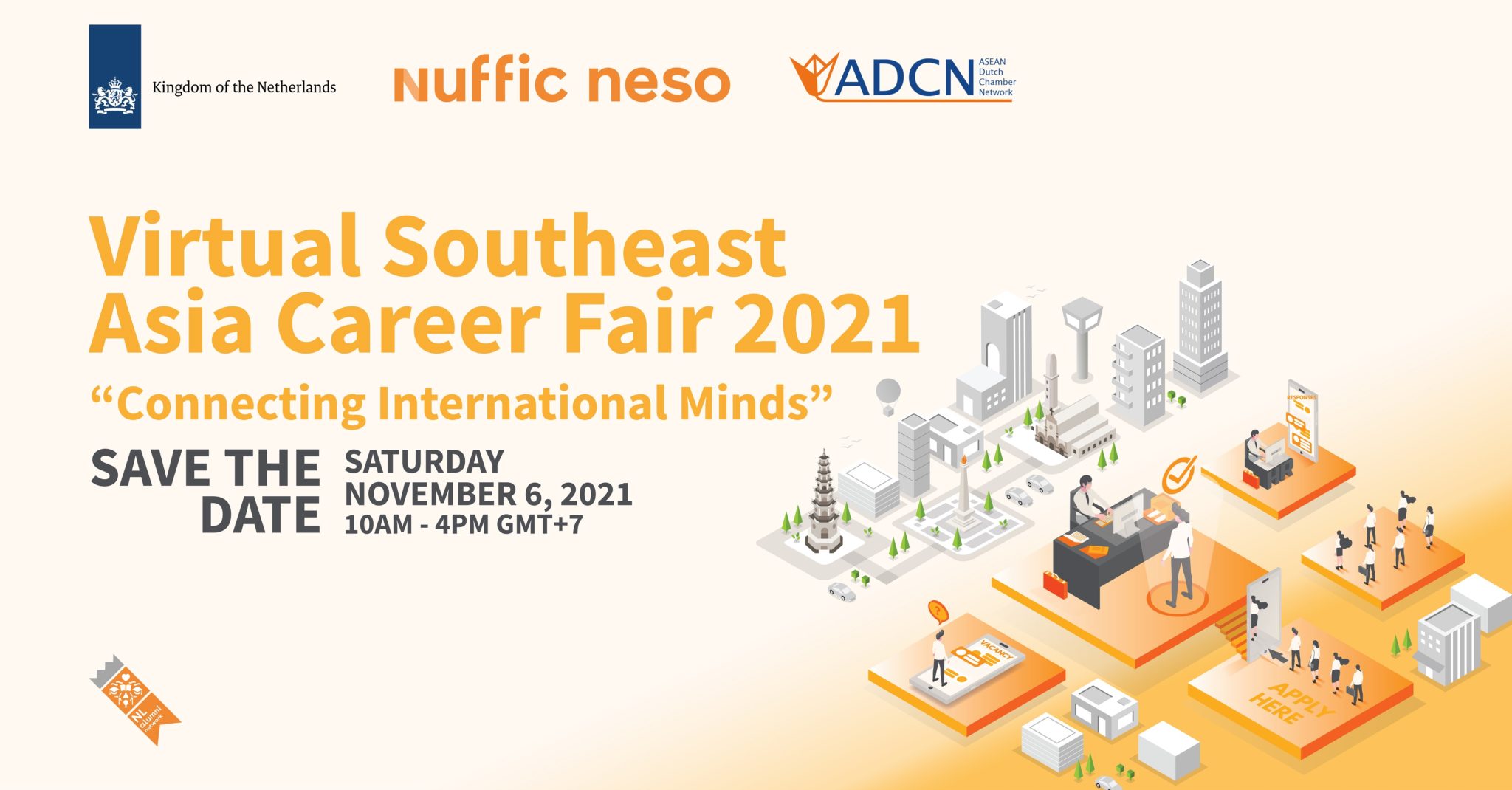 Virtual Southeast Asia Career Fair
November 6, 2021
What are your benefits as a company?
Tap into a talent pool: more than 9300 people from Southeast Asia who studied in the Netherlands (NL Alumni), varying from fresh grads to mid-career professionals, and graduates from Southeast Asia's top universities.
Increase the visibility of your vacancies and the profile of your company: Six (6) countries will be covered: Indonesia, Vietnam, Philippines, Singapore, Thailand, and Malaysia.
Virtual recruitment activities: Meet and screen your potential employees virtually in 1:1 matchmaking sessions. Take advantage of the latest job trends and human resource management strategies and join virtual workshops to optimize your recruitment strategy.
Special discount: Applied to all members of the Dutch Chambers of Commerce, affiliated with the ASEAN Dutch Chamber Network (ADCN): DBAV, DCCP, DBN, ADB-DutchCham, MDBC, NTCC.
Choose your company package and register before October 10, 2021 (*We will get back to you with the payment information)
Thank you for your attention and we look forward to welcoming your company 'on board'. Should you have any questions, please contact Ms. Sally Gentha, [email protected].
*This event is organized by Nuffic's Netherland Education Support Offices (NESO) in collaboration with the participating business councils of the ASEAN Dutch Chamber Network (ADCN).